Comcast Newsmakers Highlights Equal Justice Center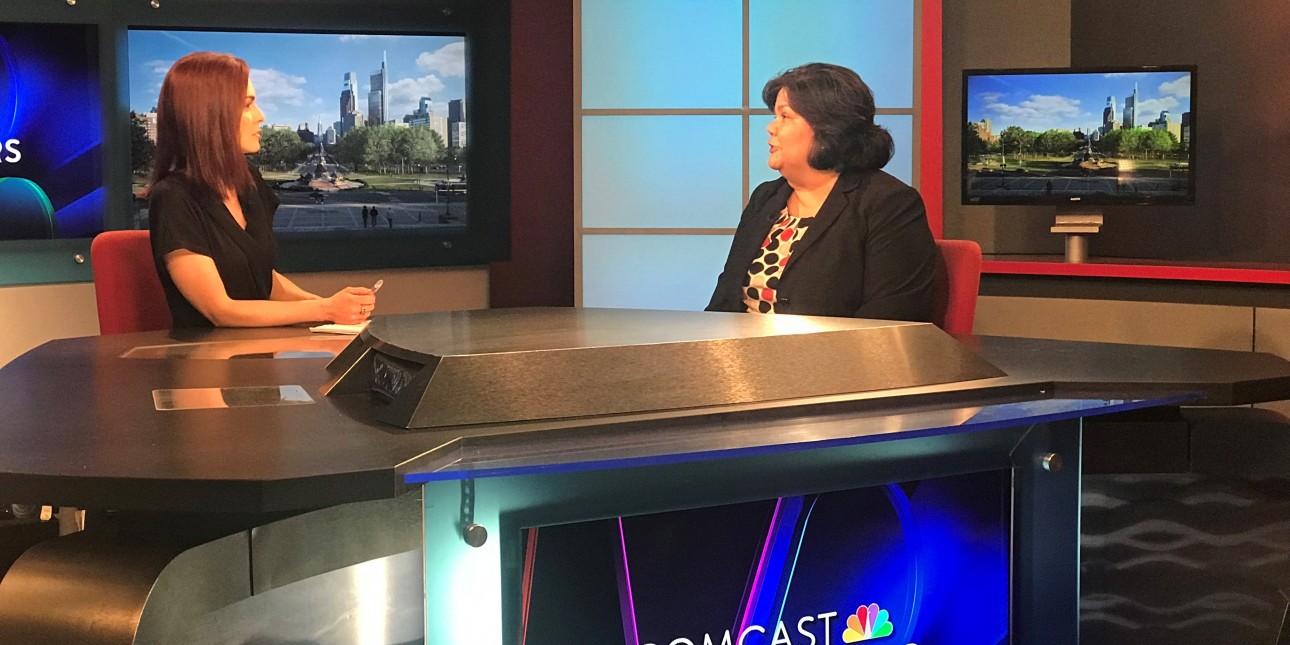 Comcast Newsmakers host Jill Horner interviewed Anita Santos-Singh, Executive Director of Philadelphia Legal Assistance, to discuss the concept of combining Philadelphia's top legal aid organizations into the new Equal Justice Center. Watch or read their interview below.
Jill: How can a new building help clients better access legal services? I'm Jill Horner. This is Comcast Newsmakers. With me is Anita Santos-Singh. She's executive director of Philadelphia Legal Assistance, which is a tenant at the new Equal Justice Center. Thanks so much for being with us.
Anita: Thank you for having me.
Jill: Let's talk about the concept of the Equal Justice Center. It will be a new building between 8th and 9th and Race and Vine, but what's the concept of this center?
Anita: The concept is really to co-locate the city's top legal aid organizations into one building so that they have a place from which they can combine their energies and their work in a way that is most effective and economical.
Jill: For a client that you or another organization may serve, if they need access to the services of more than one legal organization, what do they have to do today? Now that this building has not been built yet, what are the challenges that they face right now?
Anita: They have many challenges, but mostly they would have to identify the proper organization, go to that particular agency, be interviewed, give a lot of information, often very sensitive information, and at that point perhaps be able to be served by that organization. And if not, then have to ask for a referral or get one to another organization.
Jill: Which could mean an additional day, time off from work, childcare, and transportation. Now though, you and other organizations will be moving to this new building. Give us an idea as to the types of tenants that will be in the Equal Justice Center.
Anita: Currently we are about a dozen different organizations and they include organizations that serve individuals with all types of legal issues. We currently have on board Community Legal Services, Senior Law Center, as well as the ACLU of Pennsylvania. There are a number of different constituencies that they serve, and all of these services will be available in this building.
Jill: And you say this will offer benefits to the clients that you and other organizations serve.
Anita: Oh most definitely. As you mentioned, it does take time and for individuals to go around the city, seek out, and get the services they need. With one location, we've got a one-stop shop. They can come in the door and be treated for all of their legal issues at one location.
Jill: In addition to benefits for clients, you say that there will also be benefits for the nonprofit organizations that will be tenants of this building. What will they include?
Anita: There will definitely be some savings with respect to the cost of the space. The cost of space in the city is rapidly increasing, and this gives us the opportunity to stabilize our rents over a long period of time at a really affordable amount. This also affords the opportunity for us to think about ways that we might combine our back office resources, be able to save some money that way, and share equipment. And then there's the added benefit that with this new building comes all sorts of state of the art technology that we will all be able to share and use effectively.
Jill: And groundbreaking is set for later this year. Thanks so much for being will us.
Anita: Thank you.
Jill: We've been talking with Anita Santo-Singh. I'm Jill Horner for Comcast Newsmakers.